DEDICATED TO PROVIDING EXCEPTIONal care FOR YOUR HORSE
Meet our dedicated team at Manning Equine Vet Services.

Dr. Alan Manning, MSc, DVM
Practice Founder
A native of Prince Edward Island, Alan grew up immersed in a horse environment, competing on the "A" jumper circuit and being involved with his family's standardbreds. Prior to becoming a veterinarian he pursued a masters in equine reproduction at the Western College of Vet Medicine, Saskatoon. Now approaching 30 years in Vet medicine, Alan established MEVS on his home farm in 1998, where he also breeds and develops young warmbloods.
The majority of Alan's time is currently spent on equine sports medicine, particularly lameness, performance horse issues and rehabilitation of equine sport injuries. A passion for equine lameness has led to Alan's involvement with ISELP (International Society of Equine Locomotor Pathology), dedicated specifically to advanced education in the field of lameness, and he has been an invited lecturer and instructor, for lameness diagnoses and rehab protocols, both in Europe and the United States. Alan continues to be active in all aspects of equine reproduction, in particular, frozen semen work at the clinic.
To complement the practice, Alan has been an FEI Accredited veterinarian for Canada with FEI delegate status for over 20 years. In this capacity he has attended the Pan Am Games as the dressage team veterinarian for Canada as well as the World Equestrian Games as team veterinarian for Para Dressage.
Outside of the practice, Alan loves to be on the farm with family, and avidly pursues playing hockey, snowmobiling, skiing, riding and kiteboarding.
Dr. Emily Jantzi, BSc, DVM, COAC
Practice Owner
Dr. Emily has had an inexplicable passion for horses for as long as she can remember. Growing up in rural Ontario close to Waterloo, she quickly traded in her ballet slippers for blundstones, and never looked back. She completed a Bachelor of Science in Animal Biology at the University of Guelph, followed by veterinary school at the Ontario Veterinary College.
Emily has a keen interest in equine sports medicine, lameness, as well as reproduction and dentistry and is certified in Equine Veterinary Spinal Manipulation. She also holds the designation of an FEI Treating Veterinarian and FEI Delegate Veterinarian. She is also an ISELP member, dedicated to furthering knowledge of equine locomotor pathology and lameness diagnostics and treatment regimens.
In her spare time, Emily enjoys riding her hunter, Hemsworth, and attempting to train her puppy, Chai Tea. In what time is left, she also enjoys spin class, photography and experimenting with new cuisines.
Dr. Paige Manning, DVM
Practice Owner
Dr. Paige grew up with the veterinary practice in her backyard and was tagging along on calls with Dr. Al before she could tie her own shoes. She became immersed in the hunter jumper world as she grew up competing and was able to get to know the clients of Manning Equine very well.
Dr. Paige completed her veterinary training at the Ontario Veterinary College and with a desire to further her knowledge, completed a rotating internship at the Atlantic Veterinary College. There, she was able to gain valuable skills in reproduction, sports medicine and internal medicine such as colics and other GI issues.
Dr. Paige enjoys all areas of practice but she does have a special spot for reproduction, be it dealing with challenging breeding situations to healthy foal exams. She also finds lameness and the associated diagnostics engaging. Paige has been an FEI treating vet since 2015.
When not spending her weekends at shows or keeping an eye on in clinic patients, Paige can be found spending time with her Border Terrier, Winston, or trying to keep her balance on a paddle board!
Dr. Richelle Neundorf, MSc. DVM
Associate Veterinarian
Dr. Richelle Neundorf grew up in Barrie, Ontario. Prior to vet school she completed a Masters degree at the University of Guelph. Her masters degree investigated the prevalence and degree of osteoarthritis in thoroughbred racehorses. This research highlights the horse as an elite athlete and spark her interest in sports medicine and lameness work. She graduated from Ontario Veterinary College in 2014 .
After graduation she practiced mixed animal in rural northern Alberta. Wanting to refine her clinical skills, she pursued a private practice equine internship in beautiful British Columbia, Canada. She has recently become certified in Equine Veterinary Spinal Manipulation.
When she is not working she enjoys spending time with her fiancee and border collie in the outdoors.


| back to top |

Technical Staff
Berit Kendall, RVT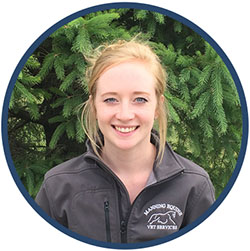 Sitting astride a horse before she could walk, Berit's love of horses drove her to many avenues of horsemanship before focusing on the hunter/jumper discipline. Berit pursued her passion for horses into Sheridan College where she studied to be a veterinary technician, earning her certification as a Registered Veterinary Technician in 2014. Berit works closely with our veterinarians on the road and on in-clinic procedures.
Cora Frisby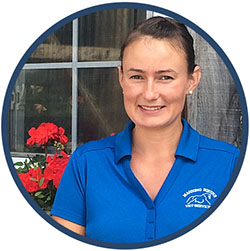 Cora has been part of the equine industry for the past twenty years, working in and managing large stables for most of her adult life. A certified elementary school teacher, Cora enjoys developing young horses when she is not in the classroom. Cora is our farm manager, ensuring the needs of our on-site horses are met and managing the incoming and outgoing patients and their care.
Victoria Kroezen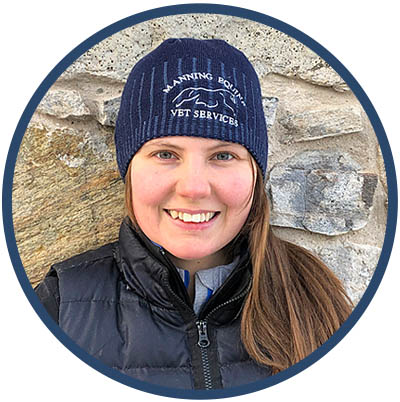 Victoria joined Manning Equine in early 2018. With an educational background in Animal Science and many years experience riding and competing in the hunter/jumpers, Victoria balances these two passions as part of the technical team. Although she does not have a horse of her own, she is often found in the barn riding and braiding for competitions in her spare time.
Kelly Howling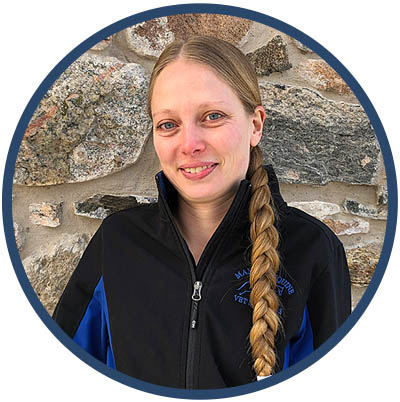 Kelly has been passionate about horses since the age of three, and this has led to a lifetime of involvement with horses and the equine industry. Growing up she enjoyed competing in the hunter/jumpers and held a particular interest for developing young horses. She has previously worked as a coach/trainer, barn manager, and long-time editor of a leading equine health and wellness magazine. These experiences have provided Kelly with a unique industry perspective which she is now excited to bring to Manning Equine as she joins our team as our administrative assistant.

Sue Manning
The longest standing member of Manning Equine Vet Services (next to Alan!), Sue left her tech position at the Ontario Veterinary College to open the clinic with Alan in 1998.
After years of being the front office person/practice manager/bookkeeper/, Sue now works primarily behind the scenes of the clinic (and heads to PEI as often as she can!).